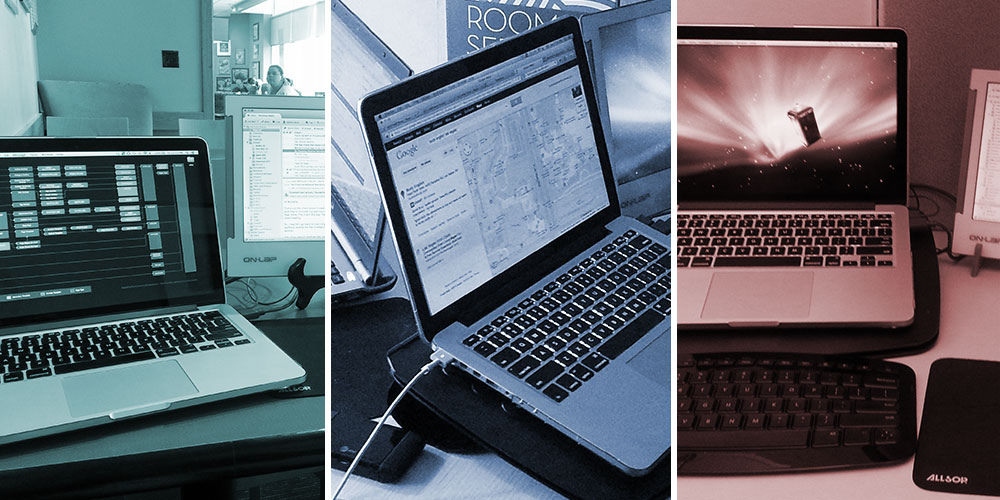 It's been a big year of travel for us here at Marktime Media, with events and jobs taking us all over the country, including California, Arizona, Nevada, Minnesota, Michigan, Indiana, Wisconsin, and dozens of places in the greater Chicagoland area. In fact, this week we are currently shooting a series of video packages in Alabama. It has been such an incredible experience to be able to meet so many new people around the country (many of whom may be reading this blog right now) and I am so grateful that I work in a field that allows me to do so. Our cars (and our frequent flier miles) are getting quite a huge workout in 2013, and September is no exception.
Next week I'm excited to be embarking on a cross-country "working drive," stopping in several states on my way to Virginia/Washington, D.C. for some family and business events. I've chosen to break the trip up over three days in order to maximize my working time, and have the opportunity to experience two or three different cities in the process.
With this trip right around the corner, plus future trips to Boston, Tempe, Orlando, and Las Vegas already on the horizon, it may seem like I never get the chance to get any work done! But I'm actually incredibly productive on trips, and I wanted to share some of what I have learned to help you work smart while staying mobile.
You CAN have mobility and productivity

My mobile workstation has evolved to adapt to nearly any situation, yet fits neatly inside one personal-item-sized bag, including a laptop, power, chargers, peripherals, a tablet, a phone, and all of my essential items.

My favorite item by far has been my portable second monitor from GeChic, a slim 13″ HDMI monitor powered by USB. It's designed to attach directly to the computer via a track, but you can also use a secondary (flat-folding) stand like I do. The HDMI connection means that the monitor can do anything a standard monitor can do, including video. Because so much work I do involves switching back and forth between emails, Evernote, web pages, or Skype Twitter Facebook other important reference material, it's saved me a ton of time to have the second screen.

You also have the option of using your tablet as a second monitor, or just using it to independently display additional content.

Watch your posture and ergonomics

This is a personal "pet issue" of mine, as I spent my first year of remote working doing the complete opposite of this: hunching over my laptop at desks, in restaurants, on couches, on the train, and even in the car. This got me lots of extra hours of productive time, but left me with permanent damage to my neck and upper back that I am still being treated for today. Excessive use of the laptop trackpad (as well as swiping my phone and tablet screen) have also caused a lot of problems with my hands and wrists. Trust me: it's not worth it!

Get yourself a fold-flat laptop stand to help raise your screen closer to where it should be, at eye level. There are plenty of cool ones, including highly adjustable options with built in keyboards, but for now I use a basic fold-flat stand with a separate keyboard in order to take advantage of those lucky times when I can work at a desk that has a keyboard tray!

For those of you that work a lot with the cursor (or maybe just haven't mastered all the keyboard shortcuts yet) having a separate mouse is a must to avoid wrist strain. While it's not the most ergonomic option available, I prefer to work with the Magic Mouse when I travel due to its slim profile and the ability to use gestures. My mousepad also serves as a screen protector when it's not in use

Take advantage of the cloud

We recently joined Dropbox for Business in order to share files between video production, design, and our clients. An added advantage is that we can have all of our project files with us at all times. We've set up our Dropbox folders to contain all of our active projects and shared assets (stock images, icons, music, themes/plugins, etc.) which means that I can open, access, and work from any of these files on any of my systems. The best part is, I don't need an internet connection to do so, since the files are synced locally!

We also use Evernote Premium to keep all of our client projects organized and shareable, including quick to-do lists, notes from meetings and phone calls, important info from emails, and notes from all the conferences and events we attend. I can jot down and read these notes from my desktop, laptop, tablet, or phone, and it's great to have them everywhere as a reference point.

Whatever your preferred cloud service is for file storage, it does require some advance planning to set this up, especially if you have hundreds (or thousands) of files to sync. Give all your devices (laptops, desktops, etc) a day or two to connect and sync before you travel.

Pro Tip: Make sure your active Dropbox sync is not automatically enabled while you are traveling! You could overwhelm a shared WiFi network, or eat up all of your data on your own mobile internet connection. Not that I know this from experience…

Bring your own internet

Public WiFi can be fun, but it can also be slow, unreliable, or downright not secure. We invested in a 4G LTE mobile hotspot with 5GB of data, enabling us to work pretty much anywhere that has a decent phone connection. If you would rather not carry an extra device, you can also consider upgrading your mobile plan to include tethering (but this could impact people on grandfathered mobile data plans, like we are). This simple device has saved us not only on the road (would you believe the mountains of West Virginia have excellent 4G LTE coverage?) but at client meetings where their in-house WiFi was locked down or slow.

Communication is key

Even if you'll have lots of time available to get work done, let your clients know that you're not going to be in your usual workplace. Differences in time zones, unexpected interruptions in internet or phone connections, limitations of public spaces, or a change in schedule might impact your normal workflow, so it's usually best to give them a heads up that things will be different. Give them alternate options for contacting you (via chat or email if you're in a place that frowns on loud calls, for example) and what hours you'll be available should they need to reach you.
Working remotely is becoming increasingly common, as more and more people become independent workers or part of distributed teams. What tips do you have for staying productive while on the go?