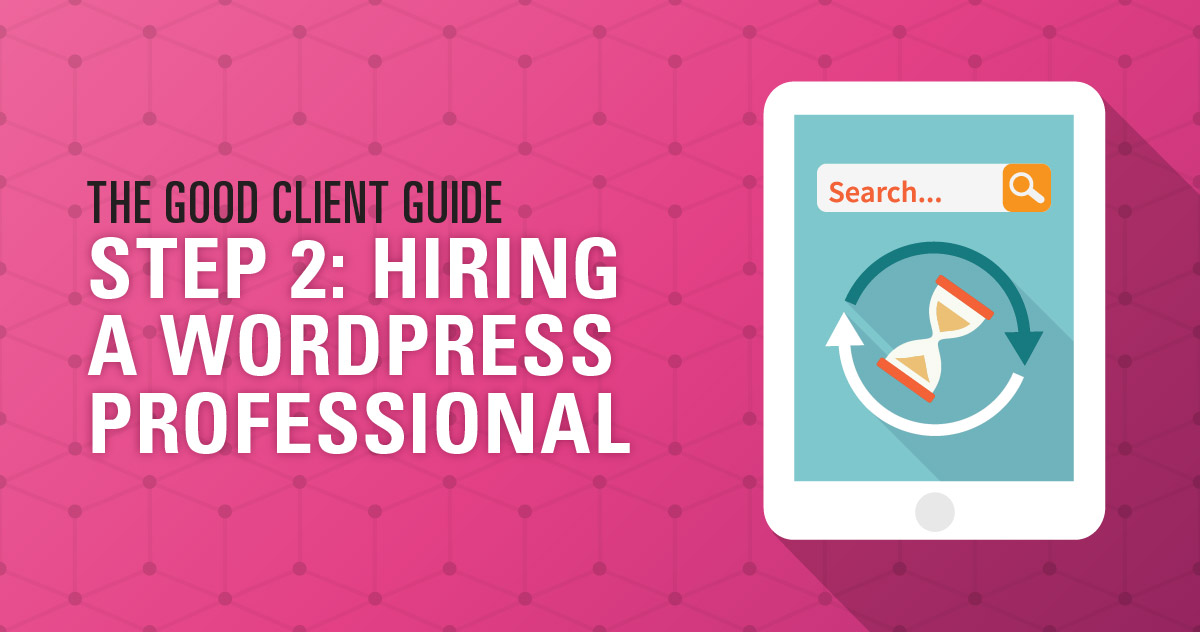 The Good Client Guide: Hiring A WordPress Professional
Part of a series exploring WordPress web development from a client perspective, this will help you decide on the appropriate business model and skills/specializations you need to hire for your project.
Back to Blog
This post is part of an ongoing Good Client Guide series, which serves to demystify the web development process and empower consumers of web design (known to many in the industry as The Client™) to be an informed and effective partner in the process. Missed a step? Check out Step 1: What To Do Before Your Project.
Choosing the right fit for your project
Once you have done your homework and realized that you need to hire someone to build your WordPress website, you still need to figure out who will be the best fit. Each website project is different, and may require different types of skills or numbers of people based on the specific problem that needs solving.
One decision you will need to make is whether to hire an individual or a team to build your project. Although cost is a factor here, there are several other considerations that are equally important. When deciding whether to hire a freelancer, contractor, or an agency, you should also evaluate which type of business model will be best suited to your circumstances. The list below outlines the most common differences and similarities between the three approaches.
Freelancer/Independent
A single person hired to complete a project or portion of a project, or hired on an ongoing basis
Skillset: Could be a specialist (brought on for a specific set of skills) or a generalist (has skills in multiple fields)
Resources: Works on their own time and equipment, may subcontract to other freelancers
Relationship: Self-managed, may take direction or act as authoritative consultant
Time: Managing multiple clients, you are on their schedule
Communication: Communicates directly with you
Cost: Rates vary based on experience and location
Contractor
A single person hired to come in and supplement your in-house talent, on a project basis or long term
Skillset: Often specialized, usually brought on to complete a specific type of task
Resources: Works onsite for pre-determined time alongside you or your team, requires proper equipment while onsite
Relationship: Needs to be managed/directed, similar to a temporary employee
Time: 100% dedicated to you while on-site
Communication: Communicates directly with you, or through a placement agency
Cost: Rates vary based on experience and location, may be a markup if they are managed by a placement agency
Team/Agency
Could be a collective of independents* or a full-service agency, hired on a project basis or long term for consulation
Skillset: Combination of experiences and skillsets
Resources: More resources & flexibility allow for managing multiple parts of a project
Relationship: Partner and/or advisory role
Time: Managing multiple clients, but may have specific team members with a majority of time dedicated to your project
Communication: Communicating with account or project managers whose job it is to interface with clients
Cost: More expensive due to additional people and overhead
*Complex projects can be done with multiple freelancers/independents working together and achieve results similar to those of an agency, but it's best to let them pick each other themselves rather than you assembling the team. They will often already have people they collaborate with on larger projects. Make sure they can communicate directly with each other at all times, rather than having to go through you or a third party.
Demystifying WordPress job titles
When you are looking for a WordPress professional to help you build your site, you might also see several different job titles or skill sets mentioned. This can be particularly confusing, because not only are there multiple titles, but each person may be using them a slightly different way, and may actually have very different abilities from someone else with the same title. Do you hire a designer or a developer, or something else? Are all developers the same? Do web consultants also provide SEO? Which is the best fit?
To make this easier, I've listed out many of the common WordPress job titles you may encounter, along with which skills a person with that title usually has, which skills they sometimes have, and when it makes the most sense to work with that person. Keep in mind that many projects, especially larger or more complex ones, require a person who possesses more than one of these skills, or multiple people working alongside each other.
WordPress Designer
Usually: Specializes in considerations of aesthetics, interface design and layout, and user experience
Sometimes: Also does theme development, frontend markup/styling languages (HTML/CSS) and/or Javascript, or has other design field experience like print or branding
Related Terms: UI/UX Designer, Theme Designer
Choose this person if: Your project requires a very strong visual language
WordPress Developer
Usually: Specializes in mapping and building interactive/programming logic using WordPress functions and HTML/CSS/JS/PHP
Sometimes: May have design/Styling experience, appliction/integration experience, or worked with other programming languages
Related Terms: Frontend Developer, Backend Developer, Theme Developer, Plugin developer
Choose this person if: Your project has complex functionality or integration requirements
WordPress Implementor/Technician
Usually: Combines existing solutions to solve problems (this article from 3.7 Designs is a great resource on this topic)
Sometimes: May have development experience, design experience, or content writing experience
Related Terms: Integrator, Assembler, Consultant
Choose this person if: You want to build your project out of recommended existing solutions, but aren't sure where to look or how to put them together
SEO Consultant
Usually: Recommending, optimizing, implementing and tracking SEO efforts
Sometimes: May have development experience, design experience, content writing experience, social media strategy, external campaigns
Related Terms: SEO Strategist, Search Engine Marketer
Choose this person if: You already have an existing site or are in the process of working with someone to redevelop a site
WordPress Expert
Usually: means nothing! There is no objective criteria for someone calling themselves an expert. Evaluate a person based on their other skills.
Other Professionals
A successful website project isn't just about designing and building WordPress themes or plugins. You may also require the services of one or more of these other professionals:
Content: Writers, Photographers, Animators, Videographers
Outreach: Email campaigns, social campaigns, Newsletters, Marketing
Ongoing: Security, maintenance, updates
Who should I hire?
How do you decide which combination is the best fit for your project? The answer is usually defined by how many of the four factors from our previous post apply.
In general, a larger, more complex project will probably be most successful if you have a combination of experiences available. This means hiring a team of people (such as an agency or collective), or a person with a deep understanding of the appropriate overlapping skill sets (like a designer who is also a frontend developer, or a theme developer who is also a plugin developer).
Conversely, a smaller, less complex project, or project with narrowly defined goals, may benefit more from a freelancer or contractor that has the specific skills needed to solve that problem.
Coming up in Step 3: Phases Of A Web Project, we will explore the steps it takes to go from initial concept to final build.